Traditional Chinese Medicine / Acupuncture
Introduction
Originally from China, acupuncture has become more widespread in the West too over the past few decades. Acupuncture is well established as a form of therapy in Germany, with some 30,000 physicians trained in a wide variety of disciplines using the technique at least occasionally.
Chinese sources suggest that acupuncture goes back several thousand years. There are records of acupuncture from the early Han dynasty, while the first systematic description of acupuncture can be found in the medical work known as "Huangdi Neijing" (The Yellow Emperor). Many of the philosophical concepts associated with acupuncture originate from the social, political and philosophical environment from the time when Confucianism, inspired by the natural sciences and rationality, co-existed alongside the more religious world view of Taoism. With the unification of the country under a centralized Chinese state around 200 BC, a largely coherent concept emerged in this area – a concept that still enjoys currency as traditional Chinese medicine (TCM).
Acupuncture is only one aspect of TCM, which also incorporates food-based therapy, movement-based therapy (e.g. Qi Gong), herbal medicine (e.g. Chinese medicines) and physical measures (e.g. Tuina).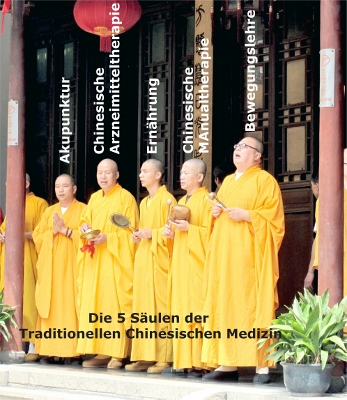 The Chinese term for acupuncture is "zhen jiu", which means to "burn and pierce". In its most literal sense, acupuncture refers to the piercing of the body's surface at defined points with needles. Before the invention of steel needles, the term would probably have referred, assuming it was used at all, to the skin trauma caused by sharp objects, local application of heat to defined regions of the body or small "surgical" procedures such as bloodletting.
These days, classical acupuncture is taken to mean the application of needles at anatomically designated points on the body (acupuncture points) or in sensitive areas (Ah shi points). Alternatively, the skin at acupuncture points can be stimulated via moxibustion, which involves warming or heating it by burning mugwort (artemisia vulgaris). Acupuncture also relies on various other stimulation techniques such as repeated pinching, piercing, twisting or electrostimulation of the needle, with various effects being attributed to these treatments in theory.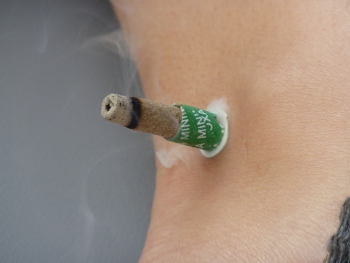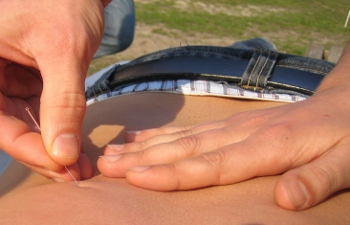 In recent decades, acupuncture has come to be seen as more than just an element of TCM: In addition to classical Chinese acupuncture, there are further forms of body acupuncture of both eastern (e.g. Korean or Japanese acupuncture) and western origin (e.g. trigger point acupuncture). The second half of the last century also saw descriptions emerge of several micro-systems within acupuncture. The most widely known form and the most investigated in terms of its effectiveness is ear acupuncture. Other systems are focused on the skull, for example.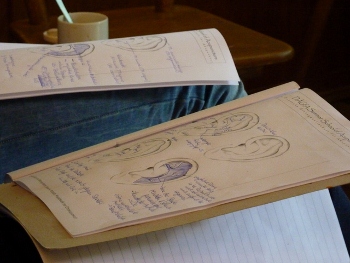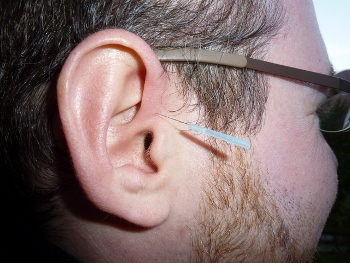 Currently, various acupuncture-related techniques are aligning themselves with the theoretical concept of acupuncture. These include cupping, laser acupuncture, injections at acupuncture points and acupressure, as well as a wide range of manual procedures.
Working on the basis of western scientific and medical principles, attempts are being made to investigate the effectiveness of the complex concepts involved, which now extend far beyond the original Chinese roots. It has been possible to prove the effectiveness of a number of acupuncture points. Many questions remain unresolved, however, particularly in terms of what is understood at a complex, philosophical level and the treatment concepts derived from this understanding.
Source: Fleckenstein J, Trinczek K: QuickStart Akupunktur. Stuttgart, Haug Verlag, 2011
Introductory literature
Choice of original research articles
Basics
Dorsher PT, Fleckenstein J. Trigger points and classical acupuncture points: part 1: qualitative and quantitative anatomic correspondences. Dt Ztschr f Akup. 2008;51(3):15-24.
Goldman, N., Chen, M., Fujita, T., Xu, Q., Peng, W., Liu, W., Jensen, T. K., Pei, Y., Wang, F., Han, X., Chen, J. F., Schnermann, J., Takano, T., Bekar, L., Tieu, K., and Nedergaard, M. (2010). Adenosine A1 receptors mediate local anti-nociceptive effects of acupuncture. Nat Neurosci 13(7), 883-8.
Harris RE, Zubieta JK, Scott DJ, Napadow V, Gracely RH, Clauw DJ. Traditional Chinese acupuncture and placebo (sham) acupuncture are differentiated by their effects on mu-opioid receptors (MORs). Neuroimage. 2009 Sep;47(3):1077-85.
Hui KK, Marina O, Liu J, Rosen BR, Kwong KK. Acupuncture, the limbic system, and the anticorrelated networks of the brain. Auton Neurosci. 2010 Oct 28;157(1-2):81-90.
Langevin HM, Bouffard NA, Badger GJ, Churchill DL, Howe AK (2006) Subcutaneous tissue fibroblast cytoskeletal remodeling induced by acupuncture: evidence for a mechanotransduction-based mechanism. J Cell Physiol 207:767-774.
Napadow V, Kettner N, Liu J, Li M, Kwong KK, Vangel M, Makris N, Audette J, Hui KK (2007) Hypothalamus and amygdala response to acupuncture stimuli in Carpal Tunnel Syndrome. Pain 130:254-266.
Clinical studies
Arnberger M, Stadelmann K, Alischer P, Ponert R, Melber A, Greif R. Monitoring of neuromuscular blockade at the P6 acupuncture point reduces the incidence of postoperative nausea and vomiting. Anesthesiology. 2007 Dec;107(6):903-8.
Cummings M. Modellvorhaben Akupunktur--a summary of the ART, ARC and GERAC trials. Acupunct Med. 2009 Mar;27(1):26-30.
Irnich D, Behrens N, Gleditsch JM, Stor W, Schreiber MA, Schops P, et al. Immediate effects of dry needling and acupuncture at distant points in chronic neck pain: results of a randomized, double-blind, sham-controlled crossover trial. Pain. 2002 Sep;99(1-2):83-9.
Kotani N, Hashimoto H, Sato Y, Sessler DI, Yoshioka H, Kitayama M, et al. Preoperative intradermal acupuncture reduces postoperative pain, nausea and vomiting, analgesic requirement, and sympathoadrenal responses. Anesthesiology. 2001 Aug;95(2):349-56.
Kristen AV, Schuhmacher B, Strych K, Lossnitzer D, Friederich HC, Hilbel T, et al. Acupuncture improves exercise tolerance of patients with heart failure: a placebo-controlled pilot study. Heart. 2010 Sep;96(17):1396-400.
Streitberger K, Kleinhenz J. Introducing a placebo needle into acupuncture research. Lancet. 1998 Aug 1;352(9125):364-5.
Usichenko TI, Dinse M, Hermsen M, Witstruck T, Pavlovic D, Lehmann C. Auricular acupuncture for pain relief after total hip arthroplasty - a randomized controlled study. Pain. 2005 Apr;114(3):320-7.
Wang SM, Peloquin C, Kain ZN. The use of auricular acupuncture to reduce preoperative anxiety. Anesth Analg. 2001 Nov;93(5):1178-80, table of contents.
Witt CM, Brinkhaus B, Jena S, Selim D, Straub C, Willich SN (2006) Wirksamkeit, Sicherheit und Wirtschaftlichkeit der Akupunktur - Ein Modellvorhaben mit der Techniker Krankenkasse Efficacy, effectiveness, safety and costs of acupuncture. Dtsch Arztebl 103: A-196 / B-169 / C-167.
Reviews
Casimiro, L., Barnsley, L., Brosseau, L., Milne, S., Robinson, V. A., Tugwell, P., and Wells, G. (2005). Acupuncture and electroacupuncture for the treatment of rheumatoid arthritis. Cochrane Database Syst Rev(4), CD003788.
Chernyak GV, Sessler DI (2005) Perioperative acupuncture and related techniques. Anesthesiology 102:1031-1049.
Lee A, Fan LT. Stimulation of the wrist acupuncture point P6 for preventing postoperative nausea and vomiting. Cochrane Database Syst Rev. 2009(2):CD003281.
Lee, H., Kim, S. Y., Park, J., Kim, Y. J., Lee, H., and Park, H. J. (2009). Acupuncture for lowering blood pressure: systematic review and meta-analysis. Am J Hypertens 22(1), 122-8.
Manheimer, E., Cheng, K., Linde, K., Lao, L., Yoo, J., Wieland, S., van der Windt, D. A., Berman, B. M., and Bouter, L. M. (2010). Acupuncture for peripheral joint osteoarthritis. Cochrane Database Syst Rev(1), CD001977.
Smith CA, Collins CT, Crowther CA, Levett KM. Acupuncture or acupressure for pain management in labour. Cochrane Database Syst Rev. 2011(7):CD009232.
Smith CA, Hay PP, Macpherson H. Acupuncture for depression. Cochrane Database Syst Rev. 2010(1):CD004046.
Sun Y, Gan TJ, Dubose JW, Habib AS (2008) Acupuncture and related techniques for postoperative pain: a systematic review of randomized controlled trials. Br J Anaesth 101:151-160.
Tulder, M. V., Cherkin, D. C., Berman, B., Lao, L., and Koes, B. W. (2000). Acupuncture for low back pain. Cochrane Database Syst Rev(2), CD001351.
Wang SM, Kain ZN, White P. Acupuncture analgesia: I. The scientific basis. Anesth Analg. 2008 Feb;106(2):602-10.